Today has been a pretty lazy summer day. Last night, around 6 pm, I fell asleep on the couch and didn't wake back up until 9 pm. I watched Whale Wars (one of my favorite shows on Animal Planet) and then headed to my computer to tool around online. I went back to bed at midnight and slept till 9 am. It was a lot of much needed sleep. 
I spent some time watering the garden before the sun was fully overhead as we haven't had much rain at all this week. I don't even remember the last time we had rain. It seems this hot and sunny weather is all we've been having this summer. I found some really irritating beetles taking over my squash plants and looked them up online to find that they are cucumber beetles.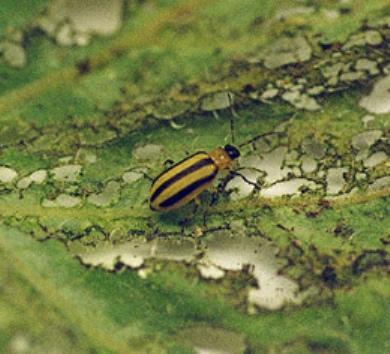 They are nasty little buggers that go for anything in the squash family and eat away the leaves and infest the plant so that it wilts and dies. I'm hoping that we've caught them before they've done too much damage. It's a bit late in our abbreviated growing season up here in the northeast to plant more. I found a natural remedy online that I sprayed on the plants earlier today, making sure to get the mating couples that were "doing it" on my leaves. Ew! If we lose these plants, I'm going to be mighty put out. Last year, we had such a horrible growing season and the only thing we got out of our MASSIVE garden was green beans. We're still eating them from the freezer, a year later! I've never had any trouble with striped cucumber beetles. In fact, this is the first time I've ever seen them. There are SO many of them!
The last two years, we've lost our tomato plants to blight. This year, I made sure to buy them from an organic grower that was at least 40 min. south of us so there was no worry of cross contamination in the air. I also rotate all of my vegetables so nothing grows in the same spot year after year. The tomatoes are looking really good and we have some green ones growing already. Now we're just waiting until they start to ripen to see if we lose them or not. The last two years, just as the tomatoes ripened, they would get black on the bottom and shrivel all the way up in what seemed like overnight! I've already lost two of my broccoli plants, a pepper plant, one tomato plant, and an eggplant plant this year. I'm not sure why. The other plants all look really healthy. Something is also getting to my bean plants this year, something we've never had to worry about years before. I highly doubt we have any deer or rabbits, especially with 3 big dogs patrolling the yard. Nothing would even dare get close, so it must be bugs of some kind. 
Zach and I took a trip down to our town's beach. It's a little beach overlooking Kingsland Bay and something really only the locals know about. The water is really shallow for quite a ways out so you can walk out about 40 feet into the lake and it would only be up to about your waist. There's a quick drop off farther out that make it possible for boats to moor out there, but it's ideal for kids. The sandy beach is a great place to sit and read and there's a nice green lawn above the beach with a couple of picnic tables. 
The lake level is a bit low right now since it's been a while since we've had any rain. Zach loves to fish in the shallows with his net. He's pretty impressive when it comes to catching fish because he does it with a net with no handle. The "no handle" thing isn't a special trick or anything...he just loses the handle or breaks it by accident. He caught a bunch of baby catfish, minnows (he calls them Tuckerfish - not sure why but it's a cute name that he's called them since he was little) and a pumpkin seed fish. He ended up throwing the pumpkin seed back because he only wanted little fish. I found this out when I went to take a picture of the pumpkin seed  (they're much bigger than minnows and quite beautiful) and I noticed it was gone. 
He brought the minnows home and put them in one of his tanks. He loves it when they school together. That kid can be entertained for hours just looking at the different tanks and jars of fish and insects he has. Other than the resident fish that we've gotten at the pet store, everything else is "catch and release." He can hang onto them for one day to look at them but they have to go back to their natural habitat the next day.
There was a little pop of color on the beach next to the large downed tree trunk that I was sitting on in the shade. I love wild flox. It grows in the most understated places. There was only this small bunch on this dry beach and it was perfect placement while I was reading some magazines. 
I love watching Zach on the beach. When he wants me to take him to the water, he always suggests, "Mom, can you take me to catch fish? You can sit on the beach and read a book. It will be perfect!" How can I say no to something like that? I treasure those moments.